About COVIDNOW
A collaboration between MoH and the open data community
The open data initiatives launched by the Ministry of Health and the COVID-19 Immunisation Task Force have been a new and welcome experience, both for us at MoH and, we hope, all of Malaysia. Open data has enabled public and private players alike to scrutinise our policies, share fresh insights and analysis of the situation, and hold us to higher standards.
One thing we were particularly pleased to see was the number of high-quality data products enabled by the liberalisation of data. Many developers and data scientists reached out to us, volunteering their services and intelligence to help us fight this virus
It was via this spirit of collaboration with the open data community that COVIDNOW was born. A group of innovative developers worked with us at MoH, 100% pro bono, to build a site that would help Malaysians monitor the epidemic. This work was led by the Crisis Preparedness and Response Centre (CPRC), in conjunction with CPRC Hospital and the National Public Health Laboratory (NPHL).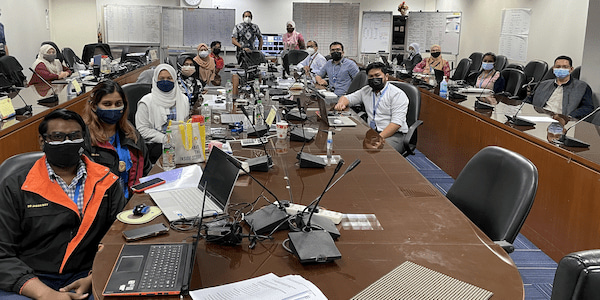 CPRC Data Team
We are proud to feature the team here - this site is symbolic of the all-of-society approach we are taking to win this war.
We have expanded to KKMNOW!
After over 100 million views and and 0 downtime, we have retired COVIDNOW. Our open data journey will be continued via KKMNOW where you can access data not just on COVID-19, but on the Malaysian healthcare system in general.
Visit https://data.moh.gov.my